Jumbo-SAL-Alliance: remaining agile
Home » Jumbo-SAL-Alliance: remaining agile
David Kershaw spoke with Christian Hoffmann, director, group strategy and marketing of SAL Heavy Lift/Harren & Partner Group, reflecting on the establishment of the Jumbo-SAL-Alliance and the group's future plans.
The Jumbo-SAL-Alliance celebrated its first year of operations during April 2022. Both carriers retain individual ownership of their vessels but having their fleets and sales activities commercially combined has been advantageous, said Hoffmann.
"Shipping life does not always go as planned" and the combination provides greater agility for clients, said Hoffmann. "There have been multiple occasions where we have been able to substitute a replacement vessel from within the fleet."
The vessels in the alliance are among the highest lifting capacity vessels on the water, and the venture has been able to corner parts of the market by combining activities.
"We are in a much stronger position. It has been a good thing on the technical side of the market," said Hoffmann. "We may, on the spec sheet, have the highest capacity vessels, but it does not mean our other comrades are not playing the game. But we can combine scopes that might not be on the menu of our competitors, and we can take on bigger scopes with our fleet. We could be considered a one-stop-shop with our fleet profile," he added.
Now that the concept has been proven, Hoffmann said the alliance is looking at a long orderbook stretching through 2022 and into 2023. "There is not much capacity, apart from in some 'strategic' spot markets. Orders are stretching well into 2023 for the high-end tonnage."
Clear and transparent communication with customers is key, ensuring that they know the realities of the situation right now when it comes to bookings. "A number of years ago we spoke about the constellation of wind energy and the oil and gas sectors competing for tonnage, and that is what is being seen now," he explained.
"The high oil price we see now – when we fill our cars and pay our bunkers – creates incentives for investments. The world wants to go green, but we realise that we are still dependent to a high degree on fossil fuels. In the medium term, there will be considerable investments in oil and gas – the West is too dependent and cannot go without it yet.
"In the same breath, the green energy agenda is going full steam ahead. In the EU and major markets globally, there are serious programmes and political pressures to invest heavily in the green scene, creating traffic on the seaways.
"Now, rates and utilisation are high; clients in both industries have to compete for what is a narrow amount of tonnage on a global scale. When you consider vessels capable of lifting in excess of 250 tonnes – it is a small fleet."
Ultimately, fleet renewal is imperative. According to Hoffmann: "The world fleet, today, is based on ageing technology. Carriers will be seriously looking into newbuild programmes."
He pointed out that newbuilds cannot follow the formulaic, somewhat standardised pattern seen during former shipping cycles. "The new F900s – they are the 'workhorse' performance benchmark. But, at the higher end of the market, we need to see something new.
"Carbon footprint will come to play such an overwhelming role in shipping globally both for the carrier and the shipper. We need to do something, but we are unclear on the technology. When it comes to sustainable fuel types, it is like VHS or Betamax."
A multi-fuel future comprising ammonia, methanol, hydrogen and synthetic fuels is possible, but without the requisite bunkering infrastructure worldwide to support tramp operations, newbuild decisions today have to incorporate technologies that can operate on traditional fuels a little while longer, while still meeting lower emission levels altogether.
Source: heavyliftpfi.com
The full story can be seen in HLPFI's ships and shipping lines supplement here.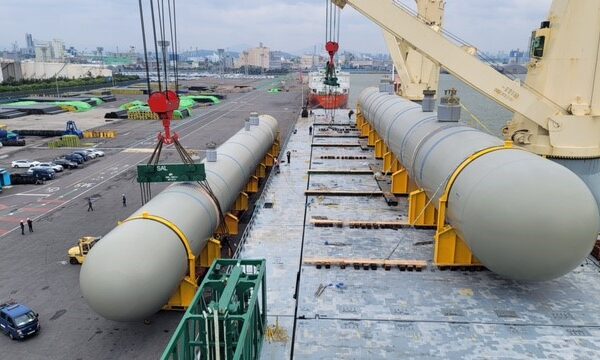 MV Svenja has commenced the first of seven voyages for JGC Corporation's Basrah Refinery Upgrading Project.
PROJECT UPDATE MV Svenja has commenced the first of seven voyages for JGC Corporation's Basrah Refinery Upgrading Project. On 7.05.2023, our good vessel MV Svenja, dedicated to the project for…